Backdoors with Python
Coding in Python with a Purpose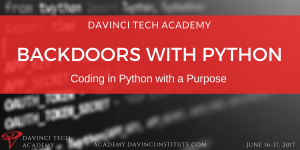 Whether you're a seasoned security engineer, operator, or analyst or you're just getting started in the offensive security community learning to develop your own tools can save money while enhancing your skill set.
Learning to develop your own backdoor will help propel you towards more advanced techniques like antivirus evasion, undetected migration, convert persistence, and module integration.
This is a hands-on course that walks students through the development of a backdoor and its integration with JediMammoth and Metasploit.
---
In this course, you will learn
Introduction to the exploitation lifecycle
US & Foreign Hacking regulations and Offensive Security regulations
How to write your own backdoor
Integration with JediMammoth
Integration with Metasploit by initiating a meterpreter session
Writing modules to run native commands, transfer files, and implement persistence techniques
How to use your backdoor with an exploit in Metasploit
Implement disk & data transfer encryption
Run NMAP scan from your backdoor
Initiation SMB BruteForce
Session Logging
Compiling with Pyinstaller
---
Who Should Attend
Additionally, anyone wishing to acquire more specialized knowledge for working with (or within) technology/offensive security startups will also benefit. This might include:
Offensive Security Operators
Incident Response Engineers
Network Administrators
Engineers
Coders
Data Scientists
---
About the Instructor
D.L. Evenden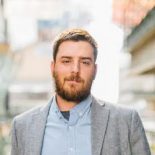 D.L. Evenden is an experienced offensive security operator/analyst with 10 years of active work experience inside the Intelligence Community. His time inside the IC led him to learn Persian Farsi, working at NSA Red Team, and being a member of an elite international team operating in conjunction with coalition forces to aid in the ongoing efforts in the Middle East.
While he currently works with an ISP and DHS to aid in the efforts to enhance the bidirectional sharing relationship between the US Government and Commercial entities, his passion is educating network administrators and security engineers on best practices when securing your network.
---
Dates and Times
2 – 8-hour sessions on developing backdoors in python
June 16th & 17th 9:00 AM – 5:00 PM
Early Registration Savings: Register by May 1 and Save $250
Investment: $749 $499 per person
If you purchased your class on CourseHorse, then our cancellation policy applies to your purchase. If you need help canceling or have any questions, please visit the CourseHorse site in Denver and contact their customer service team.